Linkfire for publishers
Whether you have a niche music magazine, a lyrics website, or a large multimedia platform, our tools will seamlessly connect your users to the right music products.
User experience is a key focus for publishers, platforms, and apps. Yet building technology for increasing stickiness and user engagement is often costly, down-prioritized, and downright difficult.
There's a simpler way
Rewire your platform's interactions with native and highly clickable content. Linkfire's powerful smart links connect your global audiences to custom entertainment content in a matter of seconds.
Native content for increased engagement
Linkfire provides the technology for your users to go to a relevant track, album, or playlist directly from your platform. Our search algorithms know which media services provide a data match, and respond immediately with a list of available service destinations.
Native and customizable content to fit your brand
Powerful and fully automated matching for music, merchandise, and tickets
Localized experience for your many audience demographics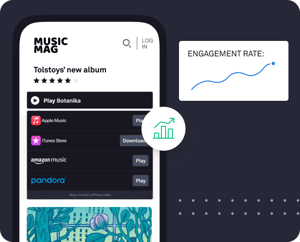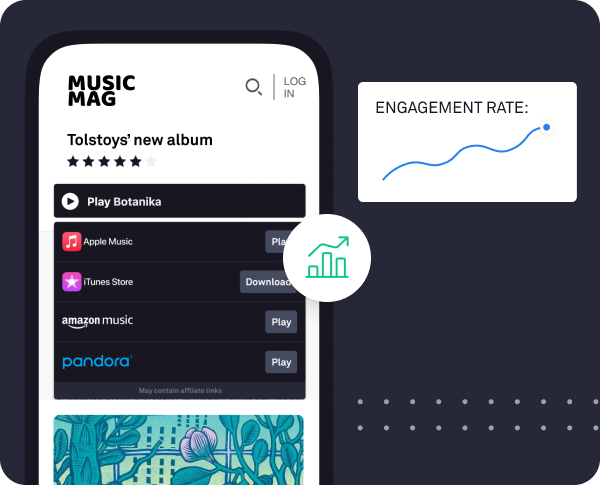 Grow and unlock more features
Tap into Linkfire's affiliate network and get rewarded by the largest affiliate platforms on the market.
E-commerce sales
Streaming service sign-ups
Ticketed event sales
Merch sales, music sales, and more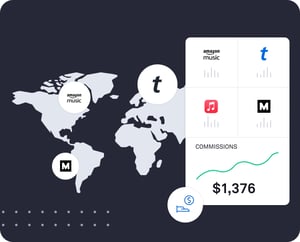 Rewire connections
Want to know more?
Try the most advanced tools for entertainment content match. Find out whether you're eligible.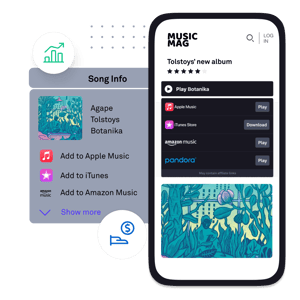 Step by step
How does it work?
You place a small script on your website or application.
Linkfire's search algorithms match the content from your page with a smart music landing page.
When visitors click, the button serves them with a localized landing page where they can choose to stream music, get a ticket, buy merch, and more.
The smart landing pages are powered with tokens for top online affiliate programs, so when a visitor makes a purchase, you earn a commission.
Linkfire manages all the technical aspects and reports back to you.
Why partner up with Linkfire?
Fully automated DSP matching, support for button optimization, and exclusive music catalog.
Exclusive network of programs that are constantly growing, and proprietary DSP partnerships.
Feels local, built to be global
The music industry's trusted solution to route fans to their preferred DSP to discover music.
Need more answers?
Frequently asked questions
Who's eligible to become a Linkfire partner?
Linkfire partners with publishers who focus on music content. Whether you're into lyrics, music news, or anything else, we'd be happy to chat! If you're into music, we're into you.
How does the partnership work?
We provide a unique code for your business that takes just minutes to set up. Linkfire will do all the heavy lifting to pair with your environment, ensuring an accurate and meaningful user journey.
Are the units customizable?
Yes! Your Linkfire representative will work with you to ensure your needs are met, whether it be content or branding-related.
What makes Linkfire's solution unique?
Linkfire allows partners to link to multiple services and store types, including major streaming platforms, e-commerce sites, and ticket vendors. Due to our years-long relationships with these services, we're also able to offer exclusive, competitive affiliate rates for select partners.
What kind of support does Linkfire provide its partners?
We offer full dedicated support to our partners, starting with the initial code implementation and continuing throughout the entire partnership. You will be matched with a dedicated Partner Success Manager who will be your point of contact for the entire process.